Buying an engagement ring is intimidating on its own… If your future fiancée prefers antique or vintage rings to modern styles, you may well be in over your head, even if shopping as a couple. She might know what she likes, and she may have done a little more research than you did, but unless she is a serious antique/vintage jewelry collector, you are both novices in a tricky arena.
It's difficult enough navigating the language of classic modern engagement rings, from the different settings to the four Cs of diamonds, but now you have to educate yourself on time periods, motifs, value and a hell of a lot of hard facts without losing the allure and charm of why she wants the ring in the first place. Allow us to break it down for you one step at a time.
What's the Difference Between Antique and Vintage?
Quite simply, antique refers to jewelry that is over 100 years old. Vintage applies to jewelry that is anywhere from 20 to 100 years old but more often in engagement rings, it refers to rings that are classified as Art Deco, Retro or Mid-20th Century. Although a lot of retailers, dealers and even journalists use these terms loosely, it is important to know the difference.
Before walking into a store to check out rings, you should do some research and learn the lingo of antique and vintage engagement rings so you are confident in questions and discussion and don't make a gaffe exposing yourself as a rookie in this realm. Much as you wouldn't walk into a vintage Ferrari dealership and ask them for an automatic transmission, you wouldn't ask an antique shop to see a modern, brilliant cut diamond in a Victorian ring.
When Did Vintage/Antique Rings Become a Trend?
Around 15 to 20 years ago, women started recognizing that bigger isn't always better when it comes to diamonds, and that a ring that represents individuality is more important than keeping up with their peers. During this time, savvy designers who were contemporaries of the brides-to-be started creating alternative engagement rings for women like themselves who wanted something different. This led to a desire for the ring to be as unique as the couple's relationship, which has in turn driven the popularity of antique/vintage rings, not only among seasoned collectors but with women looking for "the one"—a ring with inherent romance, an intriguing past and an enduring future.
And, just like your beloved, antique and vintage rings are often one-of-a-kind, reflecting unique characteristics and rare personality traits. They also have a built in love story steeped in the past, old world techniques and authenticity.
On a practical note, the instant sustainability that comes with a ring that was designed in the 1900s, the 1990s, or any time in between should not be overlooked. With antique or vintage rings, no new mining or labor practices are used: the gemstones and settings already exist. If you and your loved one are drawn to the charm and sentiment that these rings of the past evoke, it's also a huge benefit that the ring that will speak of a shared life is also socially-environmentally responsible.
6 Steps to Avoid Big Mistakes
1. Do Your Research: Go on an internet date with your soon-to-be fiancée to try and identify a few different styles and traits in rings that she will want to see in person. Great resources include Instagram accounts such as but not limited to @plattboutiquejewelry, @bentley_skinner, @s_j_phillips, @abrandtandson, @wilsonsestatejewelry, @bellandbird, @jewelsbygrace and… Lang Antiques (which also has an informative educational section on its website), Brides Magazine and 1st Dibs. Memorize the key words you learn here about the styles and eras that appeal to her.
2. Set Your Budget: Before you begin to look, determine your budget. Only you can figure out what you can and want to spend on an engagement ring. If you find the ring of her dreams and it's a bit higher than you want to spend, I would recommend you go for it. If it sells, you will not find the exact piece again.
3. Identify Prices: As with modern engagement rings, rarity drives price as does the metal and the stones in a ring. Rarity in antique and vintage rings includes age, condition, hallmarks, and provenance. Where you purchase the rings also affects price and each period of rings and styles within those periods will have their own range of prices. Therefore, keep notes and compare. You can try and negotiate with many antique vintage retail stores and dealers, but go slowly and feel out the person you are dealing with.
4. Check Out Reputation: All antique and vintage dealers and retailers are not created equal. Do some recon before you purchase the ring. The rings featured throughout this article are all from reputable shops and dealers.
5. Consider Your Lifestyle: Is the ring high maintenance? If so, what type of care does it need and is it worth it or would you both prefer something more laid back and conducive to your daily life?
6. See If The Ring Fits: You can size a ring if it doesn't have a design on the whole band or if it won't change the shape of the ring. You can traditionally go two sizes up and two sizes down depending on the style but before you purchase, it's important to know your loved one's left-hand ring finger size.
Shopping for Rings in the Real World
You've met a few rings that intrigued you on the internet, now it's time to meet them in person. Go on a shopping date with your intended and encourage her to try on a variety of rings that are similar to those you chose online. Keep an open mind as you both look. Women often change their minds about their dream ring after seeing different styles on their finger. "The one" they choose is often completely unexpected.
Shopping together won't diminish the main event. You can surprise her with a thoughtful and creative proposal and buy the ring she has fallen head over heels for when she is not around. And you will be confident in the knowledge that you have purchased the one-and-only ring for her.
Read our Guide to the Best Sites for Antique and Vintage Engagement Rings
Sofia Kaman, who designs modern engagement rings in addition to selling a beautifully curated assortment of antique and vintage styles in her Santa Monica-based shop and on her website, explains. "Once you work with a knowledgeable retailer and your future fiancée tries on different styles, she begins to know more about what she wants. An engagement ring is one of the biggest purchases and one that represents your love and future life together. Therefore it's important to get it right."
The ring must resonate on an emotional level and represent the way she feels about you. She should love it deeply, believe it complements and brings out who she is, and feel she can live with it day to day for the rest of her life.
Make sense? We're not done yet; grab another beer or maybe something stronger, there's still more to learn.
The Historical Time Periods of Antique and Vintage Rings
Here's what you need to know about the periods in which antique and vintage rings were made:
VICTORIAN 1837-1901
Think: Older, more conservative fashion, no platinum yet
Queen Victoria set the jewelry style, which was full of sentimental meaning. Rings were predominantly in yellow gold with silver topped settings for stones. The silver tops provided a backdrop, which emphasized the subdued sparkle of hand-cut diamonds. Later on, advancements in stone cutting techniques borne of the Industrial Revolution allowed the diamonds to be set directly into yellow gold. The styles most popular from this era include many rings that we see again and again throughout history.
EDWARDIAN/BELLE EPOQUE 1901-1915
Think: Not so fussy, rising status of women, more technology-enhanced detail work
The Edwardian period was also known as Belle Époque in France. Changes in fashion and the discovery and use of platinum as a metal for jewelry allowed for lighter, airier and more ornamental, lacy designs. Intricate filigree, piercing and engraving work surrounded diamonds in platinum fused to 18K gold and eventually technology allowed for rings to be pure platinum. The earlier looks were ornamental in style. Later rings still featured details that were feminine but were less fussy and ornate.
ART DECO 1915-1935
Think: Hints of modernity, influences from Cubism, Russian Constructivism and Italian Futurism 
Defined by clean, geometric streamlined silhouettes and bold graphic shapes, the jewelry of the time reflected the ultimate in modernity, free from the restrictions and the more ornamental details of the past. Although many designers of the era still appreciated the character of hand-cut diamonds, advances in diamond techniques created what we know as the round brilliant cut today and as well emerald, baguette, marquise, and trillion shape diamonds (think: triangles) in spare and pared down settings.
RETRO 40s – MID 20th CENTURY 1940-1965
Think: Post WWII affluence with nods to older styles — like the Victorian era
During World War II, non-military use of platinum was banned in the United States, forcing jewelers to get inventive with yellow and rose gold. After the war was over, pieces took on a more fluid yet bold approach to the clean lines of the Art Deco movement. Center stones tended to be an integral part of the total design of the ring. Jewelry, on the whole, was bigger and statement-making. After the war, jewelers went back to using platinum as the metal of choice for engagement rings. We also saw the comeback of silhouettes from Victorian times. 
Vintage and Antique Ring Styles
Now that we have our history down, let's talk about popular styles.
According to Alexandra Cervellero, owner of Gray & Davis, a New York-based antique and vintage jewelry shop, "Women today want rings that are distinctive with all the romance and allure of the past but that are also wearable, durable and that go with their fast-paced lifestyles."
Specifically, she notes that she is "seeing more and more women turn to more classic rings in yellow gold. We always find that there is a lot of interest in cluster rings that crossed different time periods and Victorian five stone rings."
Kaman noticed a trend toward five-stone rings for women who prefer horizontal finger coverage and a ring that can stack easily with other bands. But Kaman's customers also love the feminine and intricate details of the open filigree work and more ornate styles of the Edwardian/Belle Époque into the early Art Deco styles.
Let's explore these and other styles in detail (see our diamond dictionary below for the stones we describe in these popular rings ).
The Cluster Ring
The cluster ring is characterized by smaller diamonds surrounding a larger center stone. The central design can sometimes resemble a floral shape or lean toward a more rounded or geometric form. Victorian styles tend to be the most popular, set with soulful mine cut diamond (see glossary below) surrounds and center stones. Edwardian/Belle Époque styles display a more refined feeling due to advances in stone cutting at the time and the emergence of platinum in jewelry. Cluster styles appeared again in the mid-20th century. Beautiful examples of cluster rings from all time periods also showcase natural ruby, emerald or sapphire center stones. The effect of the surround creates the appearance of a larger center stone which is why these rings continued to be a favorite throughout different eras and a coveted choice for engagement rings today.
The Early Solitaires
The perfect option for a woman who prefers a ring with classic appeal, Victorian solitaires come in a range of diamond sizes and styles, from the small, high prong-set mine cuts on plain bands to those that are much more distinctive with a crown or floral/buttercup-like settings, and enamel or engraving. These have become particularly well received in a time when yellow gold is the trend in all forms of jewelry. Low profile settings (those that sit closer to the finger) are much more sought after in solitaires and other antique and vintage style rings.
Edwardian/Belle Époque solitaires were traditionally designed with mine cut or European cut diamond center stones or the finest of sapphire and ruby gemstones. They were typically low profile and less ornamental than the full on lacy openwork styles of the day. Intricate and feminine elements decorated the shank, the prongs, and the gallery (under the stone). They were first designed in platinum over gold and later in all platinum.
The Three-Stone Ring
Three-stone styles became a popular choice for engagement rings from the 19th through the mid-20th centuries and were designed in a variety of looks and gemstones. The most interesting of these were set with two of the same cuts on the sides and a completely different cut and color for the center stone, predominantly Columbian emeralds, Sri Lankan sapphires, and Burma rubies.
The Five-Stone Ring
This is a versatile style and one that is perfect for those who prefer more coverage from east to west across the finger. It's also perfect for women who want an all-in-one engagement/wedding band. These five stone rings were available in different versions throughout the Victorian period, set with mine cut diamonds in silver fused to yellow gold or all yellow gold. Colored gemstones in five-stone rings were equally popular during the Victorian and into the Edwardian eras. You can find them in natural rubies, emeralds, sapphires, pearl, turquoise and garnet, often with small mine- or single-cut diamonds set in between each gem.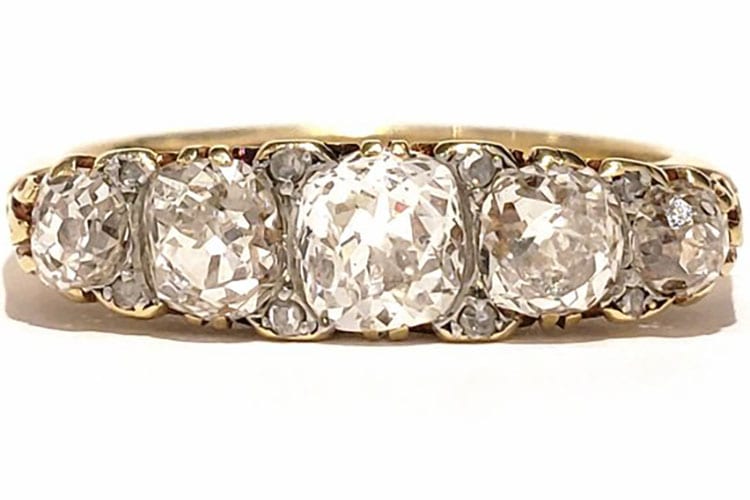 The Gypsy Set Ring
Gypsy set rings initially appeared as rings for men in the late Victorian and Edwardian eras. Sturdy and weighty, the first versions of these rings were flush set (set directly into the center of a slightly domed gold band) with one mine cut diamond. As the style took hold for women, the rings began to be flush set with three stones, a larger center diamond or colored gemstone flanked by two slightly or considerably smaller diamonds. They appeared again mid-20th century in much the same type of design as the earlier rings. The popularity of yellow gold for engagement rings and the desire for durable, wearable everyday rings has elevated the gypsy set ring with one or three stones to become a major contender among antique or vintage engagement rings.
The Transitional Ring
The single center-stone ring took on a whole new meaning as it transitioned from the Edwardian into the Art Deco period. Old mine and European cuts were still being used due to their exclusive feeling and magical character. But there were also the advances in diamond cutting and for all diamonds and colored gemstones, jewelers of the day created three-dimensional objects of beauty with piercing work, filigree and engraving all around the shank.
The Sleek Statement Ring
During the Art Deco period and into the mid-twentieth century, advancements in diamond and gemstone cutting and a new modern attitude and freedom took hold. Streamlined and spare were the new buzzwords for rings. Emerald or marquise shapes cuts flanked by two baguettes became the rage in simple settings or those with a futuristic look. Diamond cuts also included marquise pear shapes.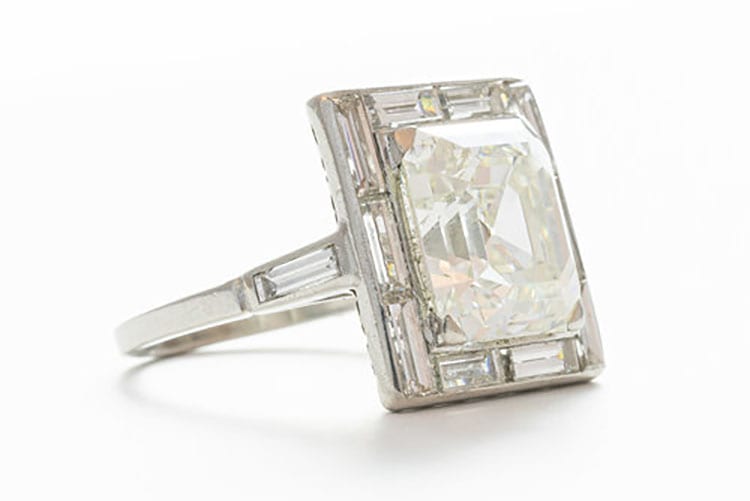 Antique Diamond Ring Glossary
Last but not least, here are our definitions of antique and vintage ring diamonds.
Rose cut
Resembling a rosebud, this cut can have anywhere from 3 to 24 facets. They date back to the 1500s but were most widely used in Georgian and Victorian jewelry, and have a soft glow for women who prefer a subdued approach to diamonds. Rose cuts have inherent yet beautiful character flaws, due to the rough diamond material that was available during the time they were cut. However, women seeking a larger center stone in an antique ring can get more bang for their buck. These enchanting stones are cut flat on the bottom allowing for a large surface on top.
Old mine cuts (OMC) were also cut by hand and either took on a rounder or more cushion (rectangular with rounded corners) shape. They traditionally featured a small table (see diagram below), high crown and a large culet, which creates a juicy, chunky look to the stone, giving it subtle sparkle and tons of character and personality.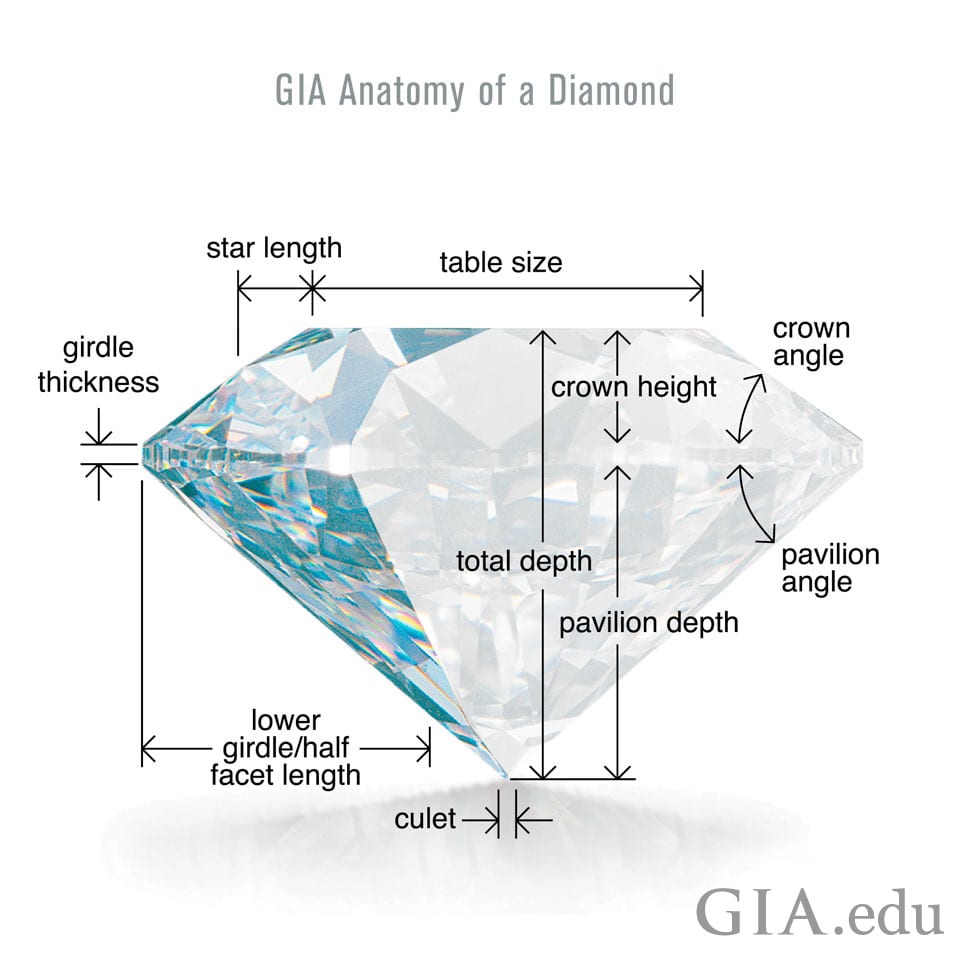 Like old mine, old European cut (OEC) diamonds were shaped by hand and also had 58 facets, yet they were more round. Advances in gem cutting techniques led to more sparkle and a more refined look in this cut.
It's important to remember that each of these center stones were cut by hand and no two are exactly the same.
In the 20th century during the Art Deco period, machine-cutting technologies began to overtake hand cutting. The "round brilliant" cut was born, which gave way to brilliant-cut pear and marquise shapes. Rectangular shapes known as the emerald cut provided elegant and sophisticated yet more subdued options for diamonds and colored gemstones.
Grading Antique and Vintage Diamonds
We haven't answered one big question about diamonds: Can you grade antique and vintage diamonds the way you do modern ones?
GIA grading reports may be possible with certain diamond cuts over one carat, however you need to consult your jeweler if the value of a certificate is worth the potential damage to the ring as a whole. If the answer is no, reputable and GIA certified dealers and stores can provide their best guess about the grade of the gem but keep in mind that unlike modern engagement rings, the whole is worth more than the sum of its parts.
Elizabeth Doyle, co-owner of Doyle & Doyle, a New York-based antique/vintage jewelry store and online shop suggests, "When buying an antique or vintage engagement ring, the most important thing to consider is the overall beauty of the ring. Don't focus too much on stats or looking for what you think you should get. Instead, look for the ring that speaks to you and your fiancée. A charming stone in a mounting with a great design and beautiful workmanship will stand the test of time. A truly special ring will always be sought after and will tend to retain its value and will continue to keep your loved-one happy every time she looks down at it and at you."